About Slingshot
We nurture the talents, skills, and wisdom of Jewish young philanthropists to make an enduring impact on the Jewish future.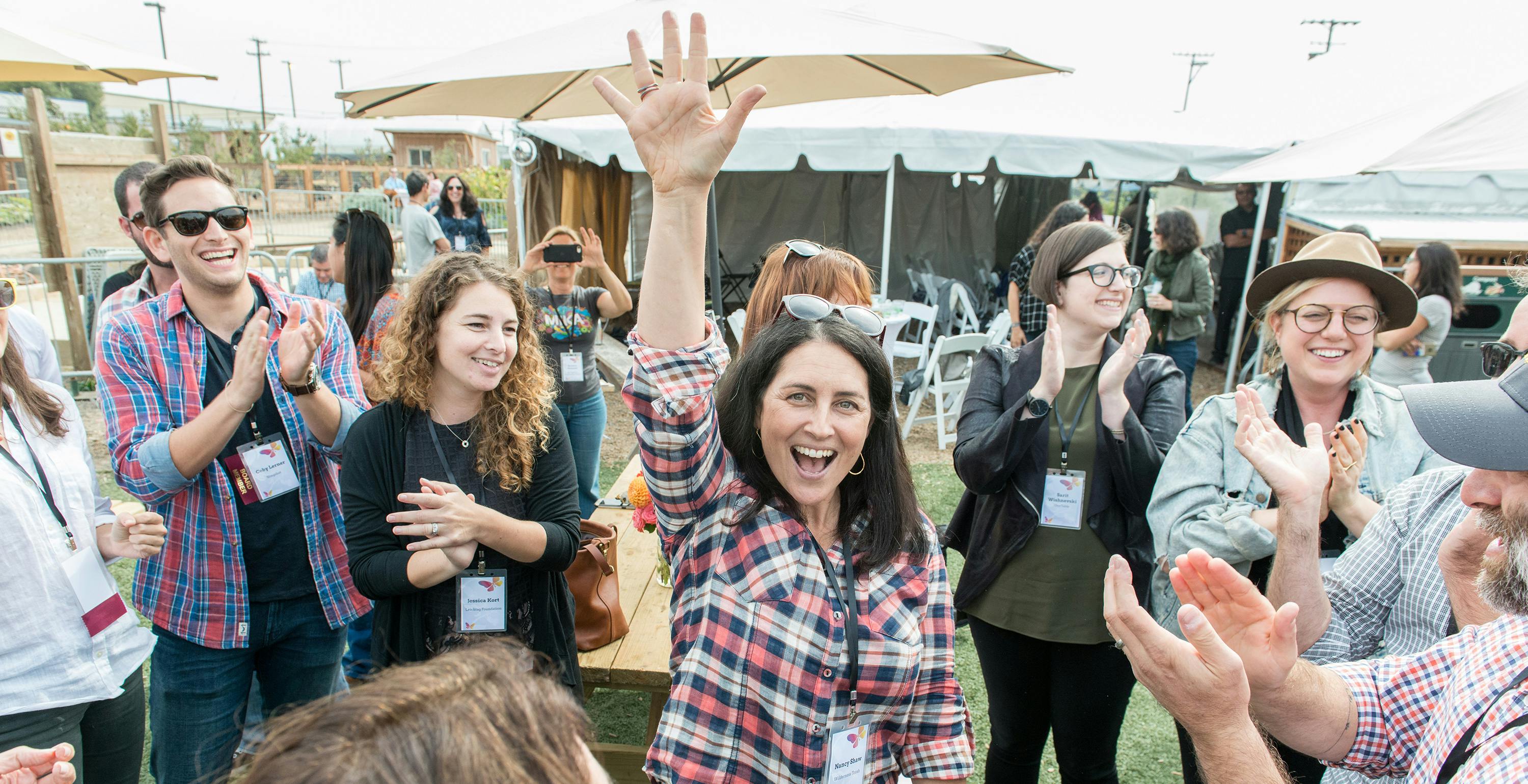 Mission
Slingshot mobilizes young Jewish philanthropists as funders and active change agents, who, with their partners, shape the Jewish community to be vibrant and continuously evolving.
Theory of Change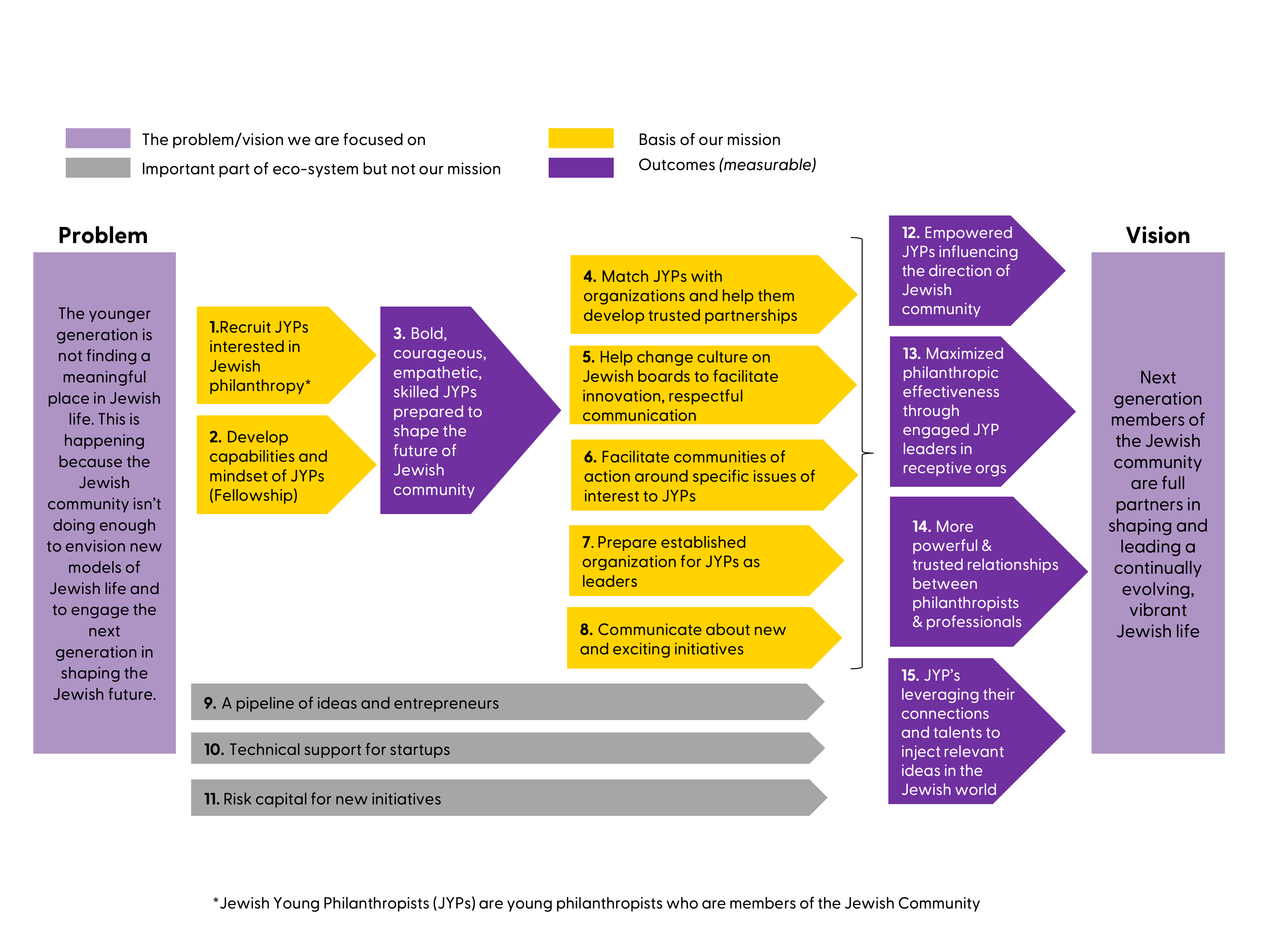 Our Impact
An evaluation of Slingshot's work: Next Gen Jewish Philanthropy: Evaluating Slingshot's Role in Prioritizing Innovation within the Jewish Community, was conducted by Informing Change and published in 2016. It is primarily informed by surveys from a total of 393 individuals and 37 key informant interviews, as well as additional documentation about Slingshot's work. Many interviewees and survey respondents represent multiple informant types, including Next-Gen funders, institutional funders or members of a family philanthropy, project representatives, and other stakeholders.
Our History
Slingshot was created in 2005 by and for next-generation funders in response to a need. A group of young inheritors of wealth emerged from Grand Street, a next-gen network run by 21/64 gathering bound by a tradition of philanthropy and the responsibility of carrying out that legacy. They had a clear sense of the change they wanted to make in the world but needed a tool to help them navigate the Jewish landscape. They set out to create a resource to find the most cutting-edge, innovative programs. With support from the Andrea and Charles Bronfman Philanthropies and the leadership of Sharna Goldseker, Slingshot was born.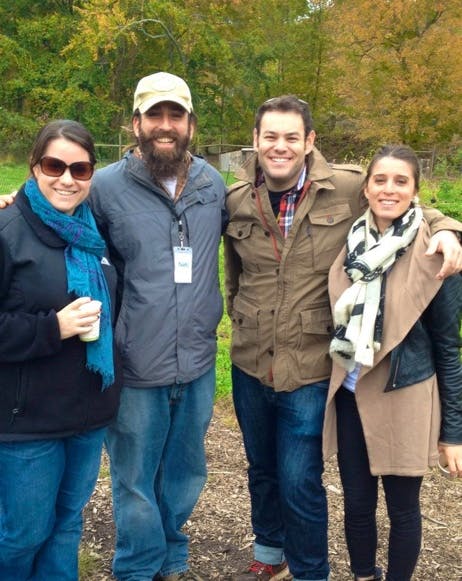 The Slingshot Staff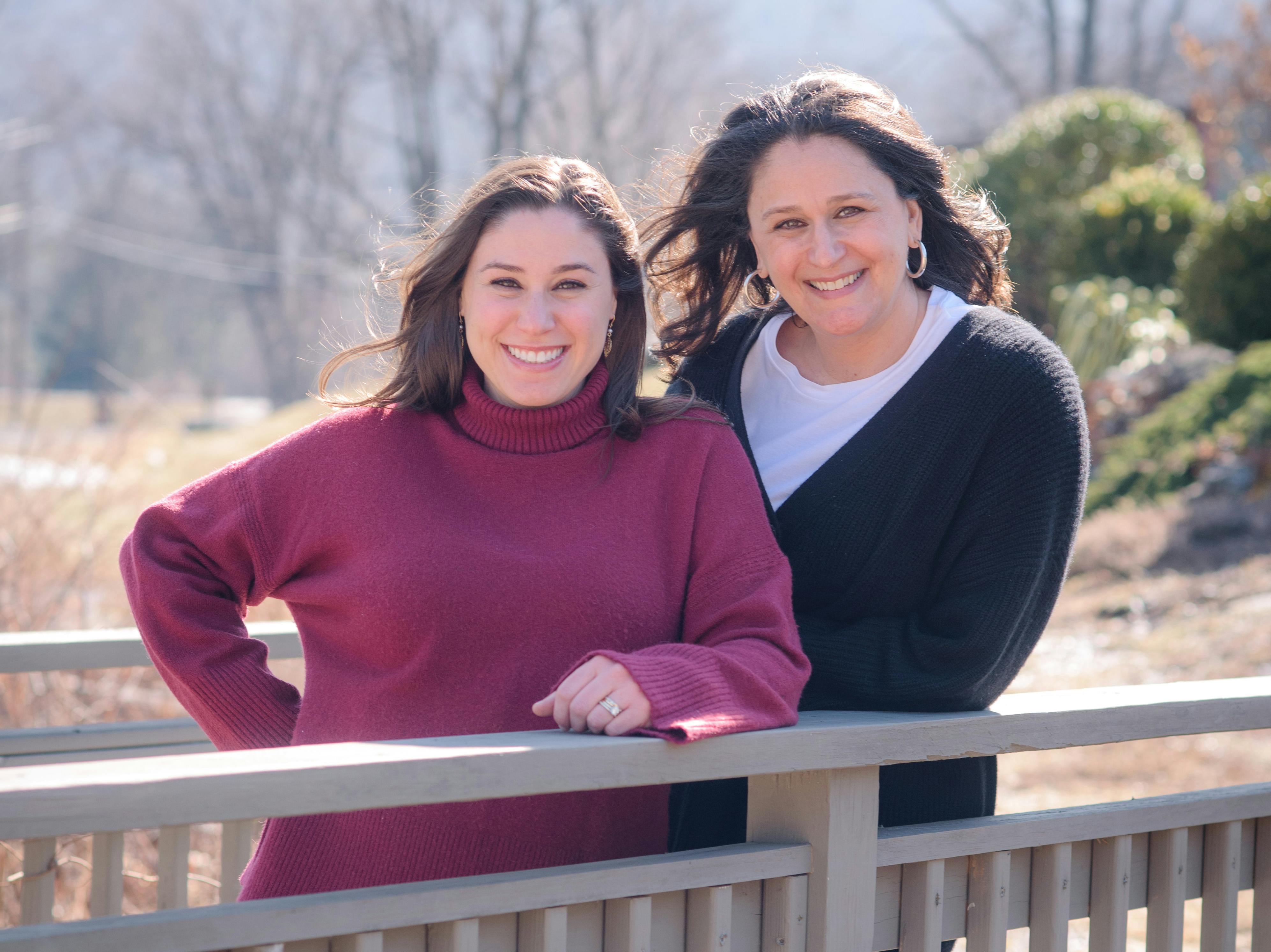 Stefanie Rhodes

Chief Executive Officer

Stefanie has spent the last 17 years working in Jewish philanthropy. Before joining Slingshot, she ran the Annual Fund at the JCC Manhattan where she started the first Giving Circle to benefit JCC programs. She also spent 9 years working at the Jewish Funders Network, where she ran the Younger Funders programming and was the founding Director of the Foundation Professionals program. Prior to joining the Jewish professional world, she worked in ad agencies and tech start-ups in the Bay Area.

Stefanie holds a BA in Journalism and a Certificate in Jewish Studies from Indiana University and a Certificate in Jewish Philanthropy from Yeshiva University. She is a Senior Schusterman Fellow and was a member of the inaugural CEO Onboarding cohort. Stefanie is married to Hue, and together they have two children.

Preferred Pronouns: She, Her, Hers

Rachel Hodes

Chief Program Officer

Rachel Hodes attended Rutgers University where she received a BA in Political Science and New York University where she received a Masters in Public Administration in Non-Profit Management and a Masters in Judaic and Hebraic Studies. Rachel previously worked at UJA-Federation of NY in a variety of capacities, was a founder of the Moishe House Murray Hill, is an Ariane de Rothschild Fellow, a member of the ROI Community, and a 21/64 Certified Advisor. Rachel also currently serves as Chair of the Democratic Party in Hoboken, New Jersey, where she lives with her husband Jason Freeman.

Preferred Pronouns: She, Her, Hers

Staci Eichelbaum Levine

Network Weaver

Staci Eichelbaum Levine currently resides in Washington, DC. Prior to joining Slingshot, Staci worked in the Jewish non-profit sector for over ten years in many different roles, including grassroots politics, fundraising, young adult leadership and youth philanthropy. Staci is passionate about community and has spent her career building relationships, connecting individuals with their philanthropic passions and helping create future Jewish leaders

Molly Schulman

Rabbinic Intern

Molly received her B.A. in American Studies from Tufts University with a focus on institutions and power. Since graduating, Molly has sought opportunities to combine her passions for community organizing, resource mobilization, and Judaism. She is an alumna of the JOIN for Justice Jewish Organizing fellowship, the Chordata Capital fellowship, the Urban Adamah fellowship, and the ALEPH Kesher fellowship. She has worked as an educator in both Jewish and secular settings, founding and facilitating a Rosh Chodesh circle, curating and facilitating a Jewish praxis group with Resource Generation, teaching at Central Synagogue and Hebrew College, and training at multiple orientations with IfNotNow. She currently serves on the board of JOIN for Justice, is a first-year rabbinical student at the Reconstructionist Rabbinical College, and is a course instructor with Don't Kvetch: Organize. Molly lives in Philadelphia, PA.

Preferred Pronouns: She, Her, Hers
Board of Directors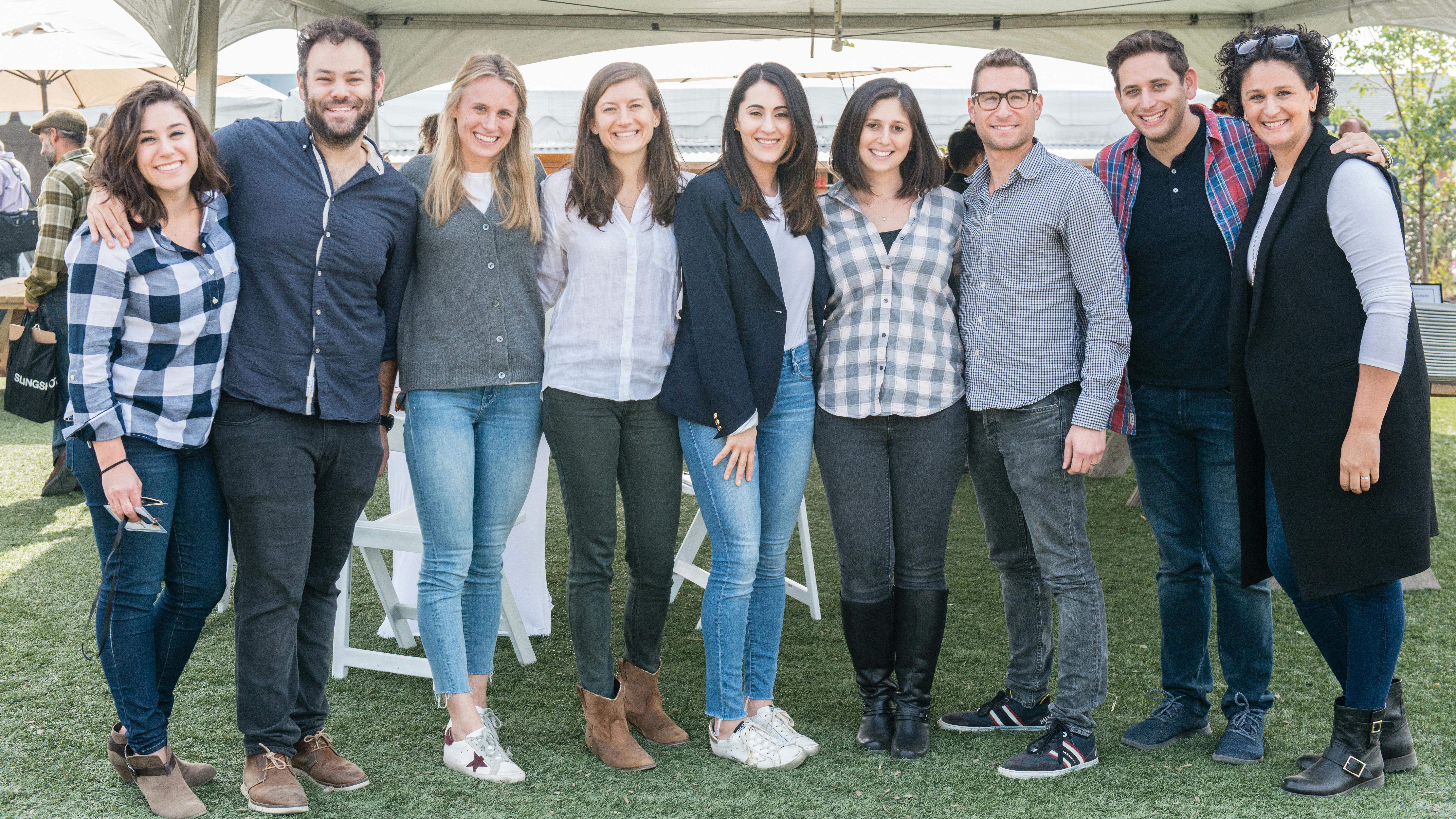 Dena Verhoff

Chair

Debra Hokin Meyer

Treasurer

Lana Fern

Secretary

Jess Leifer

Executive Committee Member at Large

Matthew Ghan

Coby Lerner

Gila Modell

Samantha Nathan

Adina Schwartz